The problem with keeping strange hours (or irregular hours for the non-Bohemian), is that dreaming seems like a fleeting thing. It isn't, of course. Most of us dream every night and at different stages of sleep.
For those who remember Psych 101, the most vivid and memorable dreams happen during the REM cycle.
We spend at least 2 hours dreaming each night, but in the last couple of weeks, I haven't slept a full 8 hours end-to-end, as it were. If you catnap your way through sleep, dreams may happen in snippets, if at all.
Last night, my sleep was interrupted – and I awoke to edit and rewrite a story for an upcoming project – but I managed to get back to sleep and had a dream episode: vivid and colorful, and so deliciously strange.
I was riding the E train – thought I do not think I've taken that line more than … nope, never!
The E train was the JFK Express, not sure if it still goes that route...
I walked from the last, empty car to the penultimate car where there were more people. I was standing, as the car was soon almost all full. Across the train car, a man stood but had propped an open bag with about half dozen shovels. Protruding from the horde of shovels was a metal rug beater.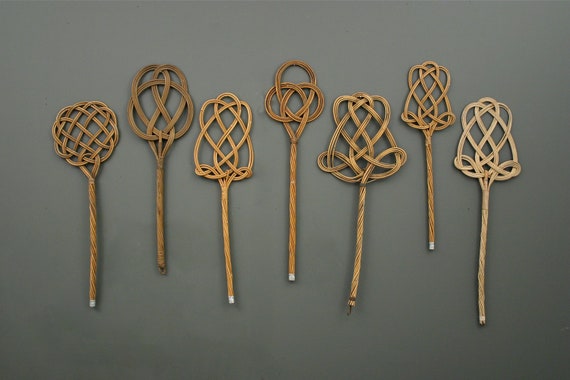 The rest of the dream was a Benny Hill-like chase – minus Yakety Sax – of me trying to contact this homeless man and travel across New York City chasing after him to purchase the rug beater for Mom's collection.
By dream standards, it may not be up there with my more production-heavy sci-fi dreams, but remembering more than an errant image from a dream amuses me and it brings me a certain level of happiness.
Not only does dreaming mean that I achieved REM Cycle, a good and healthy thing, but the imagery infects your day in different ways (creatively). I am not sure how I will end up using any of that in story-form, but it goes in the archive. Colors, sounds, bits of dialog, all of it.
For the record, Mom does own a few carpet beaters (a couple wire but most wicker). As I told her about my dream she had only two questions: 1. "Where could you possibly be going on the E train?", and 2. "Was the beater nicer than any of mine?"
What does it mean? Well, travel and shopping... I guess it all points to prosperity!