"Long before being nerdy was cool, there was Leonard Nimoy."
–President Barack Obama
Trekkies came to the franchise for a variety of reasons. Many assume it was Nichelle as Uhura that made me love it. She was, after all, a woman of color and something I could identify with.
But it was Mr. Spock that held my heart.
He was, in my opinion, the true leader on the bridge and the moral compass of the mission. He was cool and logical, smart and dignified, and there was something awfully sexy about his wisdom and serenity (even for the child watching).
But it was his genetic provenance that was truly earth shattering to me. He was half Vulcan and half human. His mother, who was human, was named Amanda (my middle name).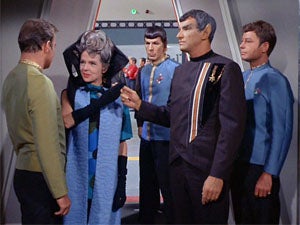 Being the product of a mixed marriage, the fact that Spock was as well made him just like me. That may sound irrelevant, but I was of a diversity that was still different enough at the time.
There was an inner struggle in being Spock, just as there was a constant necessity to assert his individuality among people who (even as they loved and valued him) brought up the things that made him distinct (sometimes accurately, more often wrongly).
Like me, Spock spent some portion of his life explaining away silly things others assumed because they did not bother to learn what made him different and, therefore, special. At the same time, it did not stop him. It did not hamper his success. There was solace in learning this from Spock.
He was a great source of information, but when he did not know something, he said so. He looked it up! He was flexible. He was a pacifist, but he could fight his way out of a bar brawl.
I loved Mr. Spock in a way I had not loved a fictional character because there was none other like him.
My freshman year at Stony Brook, I remember being in a room with two engineering students and a poli-sci grad student when the Star Trek: TOS rerun came on in one of the local stations. The boys started performing the lines, a la Rocky Horror Picture Show, and then at every commercial break they'd switch characters. They each wanted a chance to do Spock.
Of course, I loved the Star Trek universe in its totality – even for its flaws. I still do. Some of my best friends are Trekkies and Trekkers.
As for Nimoy, the man, he was a highly creative individual with a loyal fan base who respected the values he represented. He was a poet, a photographer, singer, actor and director, he even created a comic book series! He was generally a mensch. He supported the arts and the idea of young people being creative.
It took him time to reconcile the extraordinary force that is Spock because to him it was just a role
–
whereas to most of us the character represented such elemental and core values, he guided our identity, and reminded us that we had infinite potential, and that we could exist in a universe better than the one before us. Spock made us want to strive for a better world.
That is serious power just from portraying a character!
From Leonard Nimoy's "The Full Body Project"
To me, what remains clear is an expert and emotional portrayal of a character that reached me deeply. His absence will be felt keenly.