I know several people who are living in transition for a variety of reasons. Some have gone public with their pain; others share privately with loved ones or kindred spirits. The fact that we can communicate immediately across oceans doesn't mean we all prefer to do it with every soul in existence. I try to respect people's choices, even when I don't always understand it.
This infographic was making the rounds on Facebook. It references a Reddit discussion thread from someone who had just lost his or her father and felt hopelessly lost. Below is part of one response from someone who has loved and lost, literally, and sees the scars of loss as a "testament of life."
Original, longer version available at
http://www.thatericalper.com/2015/08/16/person-is-asking-for-advice-hn-how-to-deal-with-grief-this-reply-is-incredible/
Of course, everybody grieves differently, but I was touched by the imagery. This is the most poetic and accurate description of what I have felt when I've lost some very important people.
What this describes is an almost crippling grief that unravels your soul. It's unlikely you'll feel this for a third cousin twice removed.
No one can dictate or even predict how you will grieve for a loved one. Sometimes we don't immediately recognize the value of someone in our lives, or even our own emotional attachment; and it takes losing them to understand what we've lost.
Nor is loss always to be strictly defined as death. Breakups, divorces, and other terminal separations elicit an emotional response. (And I suppose that if you are a Browncoat, another senseless cancellation from Fox also applies, but that's really a different discussion.)
The
Kübler-Ross model
gives you a roadmap to five stages of grief. For those of you not familiar with the concept, the stages – after the initial shock – are: denial, anger, bargaining, depression, and acceptance.
To some, it's a full circle. Others depict it as hurdles to jump over to get to some proverbial end of a race… Some see rings of fire to jump through. Some chart it as an inverted bell. The stages do not always fall in order, and sometimes repeat. Sooner or later, though, you will experience some of it before you regain normalcy. Just know you can regain it.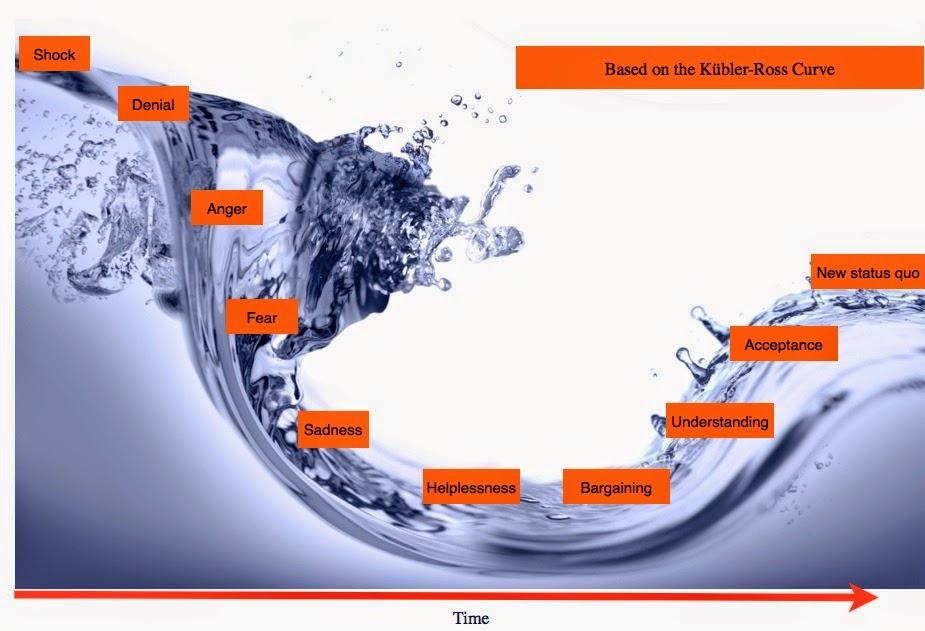 SOURCE: http://jenpersson.com/care-data-riding-the-change-curve/
The problem is that it was meant to be broad. Knowledge of it does not prepare you to experience the emotional rollercoaster. Its purpose was to allow psychiatrists to treat people dealing with terminal illness, and then expanded to include other forms of loss. Its value, for therapists, is to move the patient along toward acceptance and being functional or at least stable.
But everybody experiences and perceives pain differently, and when it comes to grieving, that pain manifests in different ways: from overwhelming melancholy to actual physical pain.
To me, the metaphor of a giant wave works perfectly; and if you've been tossed around like a toy by a wave, pushed to the sand, and dragged out to sea, left petrified and breathless, you'll grok it too.
There is a moment, when you catch your breath and you reorient yourself, and see the shore, that feels like triumph over death and all the sadness in the world. You forget that fleeting moment (that just seconds ago felt like an eternity) when you feared you would die of it, and you push towards life and living.
Soon, the memory of it remains but the fear, pain, and sadness ... these are replaced by the story of the journey and tied to a memory of love--of life, of self, of others.
Yes, love hurts, life hurts!, but it also helps you grow. Understand the pain, embrace it and let it pass, you'll come out on the other side. It's just a journey and some passages are treacherous. But think Big Kahuna: if you ride the wave eventually you'll hit the shore.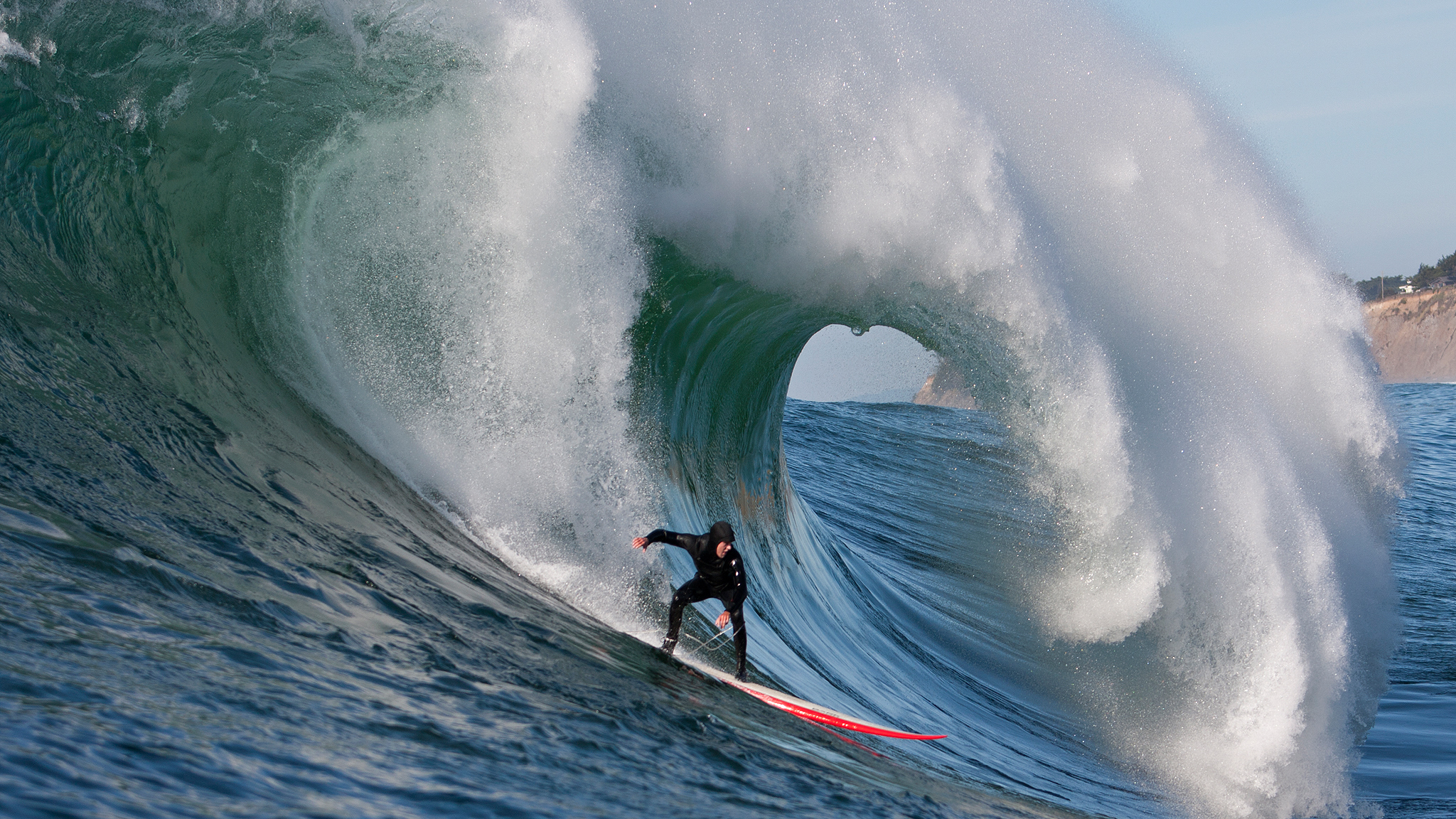 What doesn't kill you makes you stronger!
But you gotta keep moving or
things that kill you will catch up.