Not too long ago, I came into the room and from behind some non-descript news desk an anchor was informing the viewers that, "coloring books for adults are apparently a thing." There was some smirking and snark, and then they went to commercial.
I glanced over to the old barrister bookcases with the sliding glass doors, and spied a couple of my own coloring books and smiled: Alphonse Mucha posters, Art Nouveau flowers, Celtic knots, stained glass designs, Zeigfeld Follies, and Native American totem poles.
"I'm a trend setter!" I told myself.
Apparently, last month The Huffington Post site from Spain carried an article about the fact that in European markets, coloring books for adults are now best sellers. You can read the article (in English)

here

.
It essentially explains how these are used as relaxation tools (though they tend to regard it as a marketing ploy), even though Carl Jüng used it in therapy almost 100 years ago. He had his patients create individual mandalas (which he considered to be part of the collective unconscious).
These articles simply followed the trend from France where a publisher has printed coloring books for adults and marketed them for women with the words "art therapy" or "anti-stress" and their sales went up over 200%. For the moment, it seems, they are selling like the proverbial hot cake. Or perhaps like the proverbial anti-depressant, another best seller in France…
To me the biggest question is whether to use crayons or colored pencils. You may use markers but only if the book is printed on a heavy stock – almost poster stock – so that the colors do not bleed through.
The very first time I experienced true fear and stress, I was about 6 and an accident put me in the hospital for weeks. The anxiety in the house with the adults was stifling – details of which no one was going to discuss with a child, but I did notice.
One of my most precious memory of this time was that my Mom bought me these oversized coloring books (one was Puss in Boots, another was The Three Musketeers). I could literally lie on top of it and get lost in the opened book, coloring for hours into a state of pure grace.
The effect is the same as it was when you were a child. It is escapist and immersive and it allows you to focus on the task directly at hand, clear your mind and relax.
Coloring activates both cerebral hemispheres, according to the Spanish psycologist,

Gloria Martínez Ayala

:
"The action involves both logic, by which we color forms, and creativity, when mixing and matching colors. This incorporates . . . vision and fine motor skills [coordination necessary to make small, precise movements]. The relaxation it provides lowers the activity of the amygdala -- which controls emotion and is affected by stress."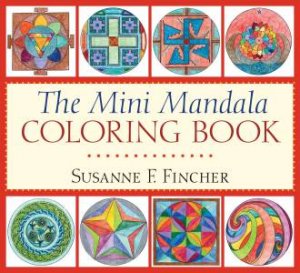 Some people write in journals, others doodle. It may require a slightly different level of creativity and focus, but the effect is virtually the same. Coloring is perfect for those folks that do not consider themselves particularly "artistic" but still need to de-stress. It's just a less passive form of meditation, I suppose. It gets you "in the zone" and the rest is sweet, sweet relaxation.
Resources: click on any of the links below to find coloring pages for your enjoyment.
Click on any of the images within this post (which include titles from my own collection) for affiliate links to purchase and help me earn a little cash. These are great stocking-stuffers, from the silly to the sublime and I recommend it as a good mental health non-med alternative.
For those of you interested in trying without buying (I love that phrase), I offer a little PDF gift: Sample Coloring Pages.